2018 Boston Red Sox Family Events!
Spring has finally sprung, well kind of! I know Mother Nature is deranged lately so believe it or not The Boston Red Sox season is underway! The 2018 Boston Red Sox offers a slue of super exciting fun family events each and every year, and I have to say, they seem to get better and better! I am so honored to have the ability to get the low down on these events happening at Fenway Park and share them with you all!
April 13, 2018 - Chris Sale Bobblehead Night
The first 10,000 fans to enter the ball park during the Boston Red Sox vs Baltimore Orioles game will receive a Chris Sale Bobblehead (as pictured). If you can't make it to the game but have a Chris Sale fan in your house do not worry! They can be purchased here.
Click here to find out more #SoxPromos that will be happening throughout the season.
April 29, 2018 - Wally's Birthday Bash
On April 29th, Wally will be hosting his nearest and dearest friends to celebrate his Birthday in the CHAMPIONS CLUB for a pre-game food and beverage buffet! Can you say VIP?! The 150 fans that purchase this very special ticket offer will have a day to remember. The ticket provides not only access to the Birthday celebration with Wally and his friends in the Champions Club that boasts amazing views of Fenway Park, but this VIP Package also includes a ticket to the game to watch the Boston Red Sox take on the Tampa Bay Rays. Need I say more? Sign me up! Prices are $91.00 each, which in my opinion is a heck of a deal, you would spend that on tickets and food anyhow, why not add in a priceless once in a lifetime event that will create memories your little ones will never forget. Don't miss out, space is limited as Wally's Celebration has a strict guest list of 150 people. To purchase tickets to Wally's Birthday Celebration VIP Package click here. To learn more about this event head on over the the Boston Red Sox's website here. All VIP Package purchases will also come with one picture taken with Wally. For groups of 20 or more or for questions please contact Travis Pollio at 617.226.6790. Happy Birthday Wally!
May 1, 2018 - Star Wars Night
Attention all Star Wars fans!! Back by popular demand, the Boston Red Sox celebrate Star Wars Night at Fenway Park! How cool! As part of the fun fans will have a chance to see the Star Wars characters; Yoda, Leia, Luke Sywalker and more while the Boston Red Sox battle the Kansas City Royals. Fans who purchase this special ticket will receive a limited-edition Xando Calrissian, aka Xander Bogarts, bobblehead! Prices are available in all price levels for this event, specific to your seat location. Purchase tickets here. To learn more about this event head on over the the Boston Red Sox's website here. May the Force be with you!
May 20, 2018 - PJ Masks Night
PJ Masks are headed to Fenway Park! The Boston Red Sox are offering a VIP celebration with Wally, Tessie, and their guest of honor and very special friends, PJ Masks! The 150 fans who purchase the VIP Package are allowed admission to this event that includes a food and beverage buffet pre-game celebration in the CHAMPIONS CLUB as well as tickets to game. Watch the Boston Red Sox take on the Baltimore Orioles! All VIP ticket holders will also have the opportunity to take a picture with the PJ Masks - Catboy, Owlette, and Gekko! Tickets are $96.00 each but as I mentioned above, you really can't go wrong. This includes a ticket to the game in the grandstand section of the ballpark, food and beverage, plus a VIP celebration with the cast of PJ Masks. We are huge PJ Masks fans in this house, so we will for sure try to attend this event! To purchase tickets to this event click here. For more information on the event click here.
Kid's Run the Bases!
May 20, 2018
June 10, 2018
July 15, 2018
August 23, 2018
After each game on the aforementioned dates children will have the opportunity to run the bases at the home of the Boston Red Sox, Fenway Park! Um... can parents do this too? Asking for a friend.
For a complete list of all the Boston Red Sox game-day events click here!
I hope you are all as excited as I am to not only welcome spring with open arms but to kick off another Boston Red Sox season! Play ball!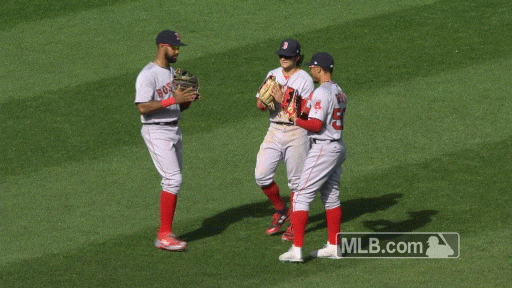 #Baseball #RedSox #BostonRedSox #FenwayPark #FamilyEvents #Wally #StarWars #PJMasks #Bobblehead #SOXPROMOS