This post is hosted. I have received tickets in exchange for this post. All opinions are my own.
My son has been wanting to attend Monster Jam for the past three years! Every time he sees the commercial for these Mighty Machines in the pit he begs to go!
I am so thrilled to be able to make that little boys request a reality!
Thanks to the people at Feld Entertainment for providing me with the opportunity to not only bring my family, but to also offer one of my lucky followers a chance to win a family 4 pack to bring their family to the Monster Jam show at the Worcester DCU Center! How exciting!! Check out all the show details and my pro tips below.
Enter my giveaway for a chance to win a Family 4 pack to Monster Jam, February 14th at 7:00pm here!
The most action-packed motorsports experience for families in the world today returns to Worcester for another high-octane weekend featuring the ultimate mix of high-flying action and four-wheel excitement at the DCU Center February 14 – February 16, 2020.
I cannot think of a better way to CRUSH February Vacation!
Get ready Worcester!
Monster Jam is an action packed show that is sure not to disappoint. Fans will witness a crushing experience where these mighty machines battle for the championship with each competitor tearing up the dirt gravity-defying feats in 12,000-pound Monster Jam trucks going head-to-head for points in Freestyle, 2-Wheel Skills Challenge and Racing competitions.
Fans will witness Grave Digger®, Max-DTM, El Toro Loco® and many more doing backflips, vertical two-wheel skills and racing at speeds up to 70 miles per hour to produce jaw-dropping, live motorsports action seen around the world.
Monster Jam
Where:
DCU Center
50 Foster St.
Worcester, MA 01608
When:
Friday, February 14, 2020 at 1:00pm (Pit Party 10:30am - 12:00pm)
Saturday, February 15, 2020 at 7:00pm
Sunday, February 16, 2020 at 1:00pm (Pit Party 10:30am - 12:00pm)
The show is approximately 2 hours long with a 15 minute intermission.
Tickets
Tickets are available starting at just $15 each*
Tickets & Pit Party Passes will be available for purchase online at Ticketmaster.com or in-person at the venue Box Office.
Please Note: *ticket prices subject to change – venue/ticketing fees may apply.
Pit Party
The upgraded Pit Party Passes are available to purchase for $15
At the Monster Jam Pit Party, you can see the massive trucks up close, meet your favorite drivers, get autographs, take pictures and enjoy other family-friendly activities. It is an unforgettable part of the Monster Jam experience where special connections are made and lifelong fans are born.
Pro Tips
I haven't yet been to Monster Jam but from what I know from friends who have attended and research on the experience I have a couple of pro-tips below:
1. Ear Protection - It is LOUD. Ear protection is a must so purchase them beforehand or buy them at the arena.
2. It's Cold. The arena needs to be well ventilated due to the fumes so dress warm.
Be sure not to miss your opportunity at this ultimate family experience!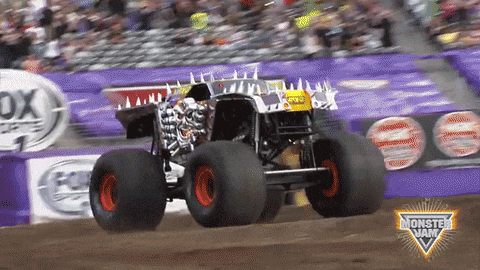 #MonsterJame #MonsterTruck #Worcester #DCU #DCUCenter #PitParty #gravedigger #maxdtm #eltoroloco #motorsport